Local SEO
Local search engine optimisation for salons, spas and clinics is a really important part of marketing your beauty business online.
Local SEO is now one of the most important facets of digital marketing for any local beauty businesses. But what exactly is Local SEO, how relevant is it to the marketing mix and what is its impact?

In this article, we will break down this information for you. Find out now why local SEO is so important in online marketing and how it can help your salon spa or clinic business.
What is local search engine optimisation?
Local SEO is designed to increase the visibility of your business in location-based searches. It is a variation of your usual search engine optimisation to ensure that your business is found online by people searching in your current location for the services you offer.

This includes searches with specific geographical features such as city, state, postcode, and proximity queries where Google determines the geographical location and provides search results from that exact area.
Why Is It Important For Your Salon?
Local SEO is extremely important, especially if you run a local business or provide services in a particular location such as a beauty salon or spa.

According to a Forbes study, as many as 95 per cent of smartphone users used their device for local search, of which 61 per cent called the company later and 59 per cent visited the shop.

Search Engine Watch found that 70 per cent of mobile phone users called the company directly from Google search results using their phones.

These figures show that leads from location-based searches represent an important opportunity to reach potential customers and these numbers will increase in the future.
As these prospects are looking for products or services, they are qualified leads, which in turn have a higher conversion rate.

In addition, local SEO can help ensure that your business appears in Google's Local map Pack. This is one of the most sought-after places within search engine results.

First, Google's SERPs responded to local search queries by displaying the seven most popular companies in the form of snippets.

This was called a Local 7 Pack and contained the addresses, phone numbers and links to these companies. As browsing became increasingly dominated by smartphones, Google reduced the 7-Pack to just three results for a better user experience. This is now called the local 3-pack.

According to a Moz study, 44 per cent of people who performed a local search click on the local 3-pack list. So most users searching for local entries will find what they are looking for within the local 3-pack options.

Once you reach this point in the search results, this can lead to an enormous increase in traffic and sales potential. Local SEO can help you get your business exactly where you want it to be.
The Basics Of Local SEO
Local search engine optimisation refers to location-based search queries. A physical address or location is a prerequisite for a company to appear in local search results. However, if your company's address is outdated in Google My Business and other online directories, it will not appear in searches such as "near me" or "in [location name]".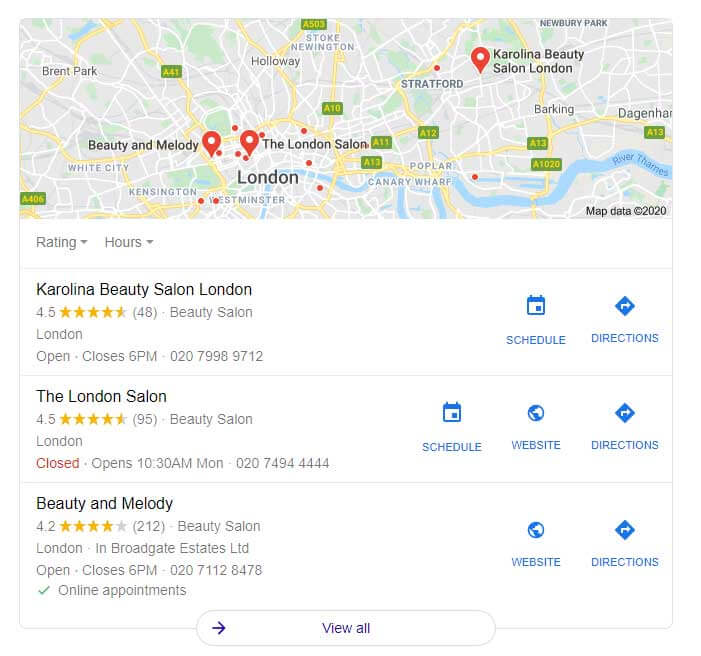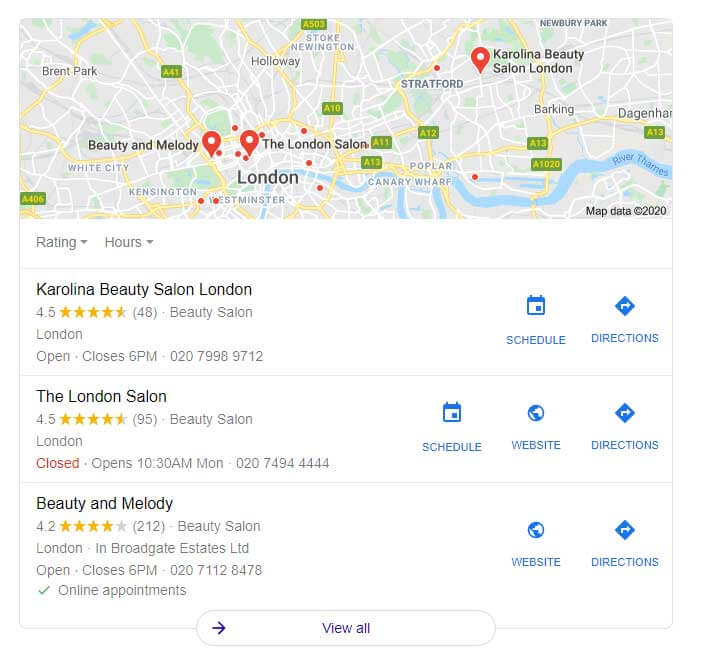 You should therefore make sure that your company's name, address and telephone number are consistent in all online directories you have registered.

If there are any discrepancies, your salon has a higher chance of Google not listing your company in the local 3-pack. There are several tools that manage all the online listings for you, so you don't have to manually update each directory, or you can use a service to do it for you.

Another way to improve local search engine optimisation is to use local links. Here, a third-party website lists your company as a reference point.

An example of a successful reference would be a beauty blog that mentions your salon as a good place to have a treatment nearby. This will let Google know that your company is trustworthy and increase your chances of getting into the local map pack. Finally, Google indicates the number of reviews you have received in the ranking of local businesses. It does not matter whether they are positive or negative but getting reviews is important.
Reviews are not a factor in how high you appear, If you received any type of a rating, remember to thank the customer, it's not only corteus, but good practise. It also shows the person who is reading , that you are not a faceless corporate organisation.

How does local SEO affect your company?

Especially for small and medium-sized companies, the optimisation of local search can be extremely lucrative. Why? Let's take a look at some of the advantages of local search engine optimisation:
local SEO helps potential customers to discover your beauty business – many local search queries come from people unfamiliar with the area who are looking for a company like yours. If local SEO is done correctly, you can reach exactly this target group.
Local SEO offers potential customers information whenever they need it. For example, if your salon has free Wi-Fi or does a particular type of treatment, displaying this information in your local SEO will attract customers who are looking for just that.
Even if you don't have a website, local SEO will help your business stand out from the competition in local searches. Local search optimisation offers potential customers the opportunity to take direct action such as calls or reservations. This in turn brings your company qualified leads that you can convert.
local SEO helps users make decisions that benefit your business. The more information they have about your business, the more trustworthy you are in their eyes. This is a strong foundation on which you can build a mutually beneficial customer relationship.
Now that you know how local SEO can help your beauty business, you should take the first steps, better manage your online presence and build a local customer base.
Do you want to promote your business regionally?
Dominate for your salon in Google's local search and attract new customers in your area.