It could be an unpopular opinion, but why do some salons concentrate all of their marketing efforts on social media when the evidence shows that by doing so you get little or non-existent engagement, where at the same time, they ignore a platform like Google My Business because they think it's hard to get to the top of the search results?
The reason why most think that way is because they get drawn in by the media and so called gurus who tell them the best way to market their business is to post on Facebook or Instagram.
I'm here to tell you something that you already probably know, that this isn't necessarily the case, and endlessly posting on Social isn't getting the flood of new customers you were was promised.
Now I'm also not here to say that social media can't work for your salon either, we have lots of clients who are happy with the results they get through using social media marketing, but they do so through a coordinated marketing strategy which includes social media as part of the mix, but one which is not to the exclusion of all other channels.
What we like to concentrate on more than anything else here at Salon Marketing Experts are the actions that get the most tangible results for your salon and that is why I want to ask you to shift your focus ever so slightly from social media to Google my Business.
I also don't believe in putting all your eggs in one basket too, so what I am not advising here is to ditch social all together and to move to another platform completely. I am just saying that by following the suggestions in this post you are more likely to get better results for your salon, that is if you are not happy with those currently, and by doing so, it is compounding your existing marketing efforts.
Why We Should Use Google My Business
So first, if you need to be convinced about why you should be using Google my Business for your salon, and to do that, you should look at the cold, hard facts.
If you are looking to attract new customer, which, I think many of us are, you need to use a tool which our new potential customers will use to find a new salon to use, Facebook and Instagram don't lend too much to your cause here, as in order to get more reach on those platforms, you are largely relying on your existing users to share your posts, and from my experience, a lot of salons struggle with that type of engagement.
If people are looking for a new treatment or salon to use, what do they do normally, they tend to search on Google, not scroll through their social feed, so it makes sense that you want to place your business in a position to be found by those who are looking for a service you offer?
Studies have shown that using a scale of 0-100% – searching on the internet to find something has an average reach of 51% of reach, whereas social only has 5% – again this illustrates why it makes sense for your business to use Google to be found, given its the biggest search engine on the planet.
Using Google My Business as one of your online marketing channels will actually improve your social media marketing as everything with your digital marketing is interconnected anyway, so it compounds and amplifies your efforts without having to do too much more than what you are already doing.
So as you can see, those reason above should be compelling enough to make that change in your business and to start using Google My Business, but the question is what can you do as a salon owner to get better results on GMB?
At this stage, I am assuming that you have already claimed your Google My Business listing, but with statistics showing that 55% of businesses haven't, i would recommend that you do so now and use the following advice to create your profile, it's not hard to do and it's FREE.
The Essentials For Your Salon Profile.
The great thing about GMB is it's really very simple, and all you need to do is complete the basics.
Google asks you to add details about your business such as an address, phone number, images, opening times etc. The key thing here is to do everything they request so your listing is as up to date as possible. I know it sounds ridiculously easy, but that what is so good about the platform, it's easy to use. But it is essential to have all your basics in place for it to work effectively for you. What I would urge you to do regardless if you have an existing account or you have just recently set it up, don't skimp on completing it, don't think that having a half complete profile is going to help you out, because it won't, just get it done.
The Key things you should concentrate on is the following:
Company Name:

this might be usual request to make because your business name is your business name right? but it worth just trying to optimise it a little. What I mean is to see if there is an opportunity to add a keyword very subtly, so if you have a business name which doesn't mention that you're a beauty salon or a skincare clinic, for example, it's worth trying to add that.
The amount of space you have to add a name is limited, so make sure that space if used to its advantage, they first priority is to use your company name, but only if you can add a keyword such as beauty salon or skin care clinic.
One other thing you can do is to add your main location to your business name too. This is something which is a little bit risky as it's not something Google like you to do, but it gives your name local relevance, and when tied with your service and name, it can get some powerful results for you.

Address, Postcode and phone number:

Again, this sounds pretty straight forward, and it is to be fair. But you have to be careful here, as Google algorithm is a script which tries to make sense of your business, and therefore has to make certain assumptions about what it thinks your business is. It does this through creating "entities" and looks upon these as buckets of information about your business. The more information you can provide to reinforce that you are this one trustworthy entity (your salon) the more confidence Google will have to show your GMB for more relevant searches.
You have to be consistent with your business details, and by that, I mean even down to the way you abbreviate and the grammar you use. If this differs in comparison to your other properties on the internet relating to your business it confuses the algorithm and may result in it thinking your website does not belong to the same entity as your GMB page and in so doing reducing the power of your listing.

Photos:

I can imaging you rolling your eyes thinking this is all very basic stuff, where's the secret sauce? Well, this is it, This is exactly what will get you the results and more enquiries through Google.
Photos are really important as part of your profile for a number of reasons as it builds up your business profile for the people who are potentially searching for a new service to try, it gives them a flavour of your business.
Photos also tells Google more about your business, remember, they are trying to make sense of who you are. You can show that you have a bona fide business,
Images are also a great way to illustrate that you are a thriving vibrant business, especially if you post them in the locations they ask you and post them regularly.
This final bit is very important, don't think that by posting a few images when setting your account up will be sufficient, it won't, regularly posting images consistently are as important as posting business updates on the platform too.

Posting:

Google my business provides several different posting types, which gives you many options to promote your business and can be used just like Facebook for example. But this is an area where a lot of small businesses lose out because they don't post. The key to success is consistency, and I can't emphasise that enough, just like you would on social, posting on Google my business will keep you from and centre of your audience's mind, however, the great thing about posting on GMB is that they are indexed in the Google search engine which gives you more coverage, and even though they stay live for only a week, it's better than Facebook or Instagram which move down a users news feed within a matter of minutes, so with a GMB post, you have a better chance of being seen.
One other thing I should mention about posting is that unlike the social media channels, where they don't want to you go off their platform, so don't give you the reach if you add a link off the platform, GMB loves you to do that. In fact there is one type of post called the Offer post which adds a call to action where you can point to whichever website you wish.

Reviews:

I mention reviews not because of the reason you might think. There are a lot of myths surrounding reviews on Google, one of which is that they are a ranking factor, which isn't strictly true. But what they are good at is to provide social proof and is a testimonial form someone about your business and the experience they have had. That is a powerful thing, as other people who are looking at a new salon, will use them to research whether to contact you or not, so it's really important for your business to encourage existing customers to leave reviews, you should try wherever possible to do that, though do not bribe them to do so as that is against Google's terms, they are supposed to be impartial.
Also, don't worry if they are not all 5-star reviews, you don't have to be perfect all of the time, and in fact, the average star rating is 3.8, so if you get 4- 5-star reviews which you would typically expect, having the odd 1,2 or 3-star review won't really harm your average.
Don't stress over having bad reviews either, most business will get them, the key thing to remember if you do get one is to respond to it, apologise for the problems caused ( even if you feel it wasn't your fault) and then try to resolve it, but do this privately. Whatever you do, don't say you will do money off or special deals for someone who leaves a poor review, as that could just open the flood gates to anyone who is looking for a freebie.

Q&A's:

Some business owner get really confused about Questions and Answers in Google My Business, as they think its for clients you complete, which they can do, but there is nothing against Google terms to say that the business cannot use this section to advise your audience more about your business. it actually makes perfect sense to do so and let people know things about your business which are not necessarily obvious, this could be about the treatments you provide, where you are located if you think you need to give directions about where you are located or specifically right now, how you are dealing with appointments and the like with COVID 19.
Naturally, if someone does ask a question, you should make a point of responding to it using the answer section.

Bonus:

Just as a bonus and following on from the last point, Google My Business is designed to marketing your business, but also to make it open and accessible for clients to make comments too, this is called user-generated content, and it is great when you get it to work for your business. So what a lot of salon owner don't do, which you should is to response to all comments made by users on your Google my Business listing. Don't just respond when you have a bad review, put as much effort into responding to all review and questions and that way you'll look like you are a caring, responsible business which Google loves.

Double Bonus:

Going back to reviews for a second. One thing that will allow you to get more reviews on your GMB page is to send out the link that people can use to leave one. You can paste it and send it out electronically from your business on emails, newsletters or even on your website! It's really easy to do too, just follow these instructions:

just grab your exclusive link which Google generates for you on you GMB home page entitled "get more reviews",
click on "share review form" and a popup appears with the link
Copy the link and share or use it wherever you want to,
It's super easy. (but remember though the recipient needs to have a google account to leave a review, which most people have nowadays anyway)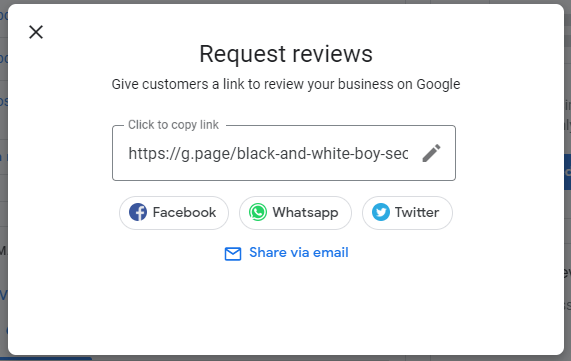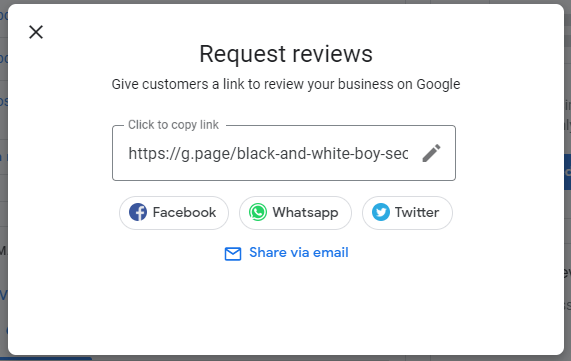 Now Go Get Some New Customers.
So, all in all, follow the suggestions above and Google will in turn reward you and list you at the top of it's local search results. If you are scepical about how it will benefit you/ All I would do is do a search on your phone for a service, and see the results, what you will find that the local results will appear above all others and so if a potential new customer is looking for one of the treatments you offer, just imagine the impact it will have if you have all those things above in place. I know it will be more effective than most of you have with your social media efforts and using that to find new customers.
if you want to know more about Google My Business, there is an in depth tutorial about how to set it up and optimise it in the Salon marketing experts academy which is completely free for salon owner to join.