If you own or manage a medical aesthetics clinic, a lot of your time might be devoted to thinking about, "how do I get more leads and enquiries for my practice." There are a number of reasons why a practitioner might think or even obsess about growing customer numbers.
You want to continue to grow your clinic and possibly to expand.
Perhaps you are finding it difficult to keep up with the competition.
Maybe you are not getting as many new patients as you would have liked
There's a brand-new clinic in your area, and the market is becoming increasingly tough.
Or Even if you're planning to open a new clinic and you want to hit the ground running.
Whatever the reason, if you are looking for ways to get more leads and enquiries, investing in SEO is a great way to do it and is one of the best Return On Investments you'll get from a marketing perspective.
But you might struggle if you don't know anything about it.
The most common challenges that practitioners have when it comes to getting more new patients for their medical aesthetics clinic through digital marketing is:
Not knowing how to do it.
Unsure where to start.
What techniques will work best for their clinic
Find it difficult to allocate the necessary time and resources to SEO.
Don't know who to trust to do it for them.
Will it work for me?
It's never easy to get more leads and enquiries for your clinic, In fact, it can be downright difficult. And while you're trying to figure out what works best for your clinic, time is ticking, you're competitors are always innovating and doing something new, you can't rest on your laurels.
That's why we've created this guide: "SEO services for medical aesthetic clinics." It contains everything you need to know and how you can use it to get more appointments for your clinic.
But that's not all. We've also included some advanced SEO techniques that you can use to really make your clinic stand out from the competition. These techniques are sure to help you dominate your local market and get more bookings for your aesthetics clinic.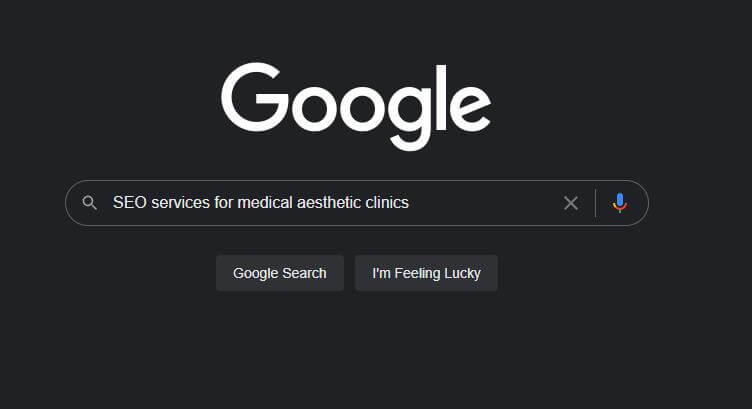 What Is Aesthetic Clinic SEO Services And How Does It Work?
If you are not keeping up to date with how your customers are searching for beauty services like yours, you are losing business which is bad for your clinic's health.
In 2022, most consumers will take to the internet to find aesthetic medical services. In fact, in the UK the monthly volume of searches for aesthetics related terms is approx 41,000, and that doesn't include searches for specific treatments, branded searches for well-known clinics or local searches.
With that type of search volume, its clear to see why your clinic needs to be visible where your customers are looking, which increasingly is at the top of a Google search.
So if you are have neglected your online presence, it's time to consider investing in SEO to fix that.

How SEO works
The basics are that when potential customers go to Google and other search engines to look for medical aesthetics clinics near me they find the results that the search engine thinks is the most relevant to you.
Normally this would be termed a local search so you'll get local companies showing up highest in the organic results typically in what is called the "map pack" which is a block of results that show 3 local businesses, with their locations on a map.
The search engine will rank websites based on certain factors.
These include things like:
Relevance of the search intent
Proximity to your location
The quality of your website design and content
The relevance of your website's content to what the user is searching for matching it with keywords such as clinics cosmetic surgery, skin, aesthetic medical services etc
What is SEO
SEO is the practice of making your website more visible online or optimising your site for search engines.
This can be done in a number of ways, but the most common approach is to make sure the content and experience of your site is the best it can possibly be for the user. This is because Google wants to provide the best result possible for any given search. If you can satisfy the user with the best possible answer, they will continue to use the search engine in the future.
SEO for medical clinics
SEO for medical aesthetic clinics differs from vanilla SEO as it deals with specific targetted searches that potential patients might make when looking for a new clinic.
This means optimising your website for certain keywords and terms that relate to medical aesthetics. It also involves making sure your website appears in local search results, as this is where most people will be searching for experts like you.
How To Optimise Your Aesthetics Website For Search
If you're running a clinic it's important to make sure that your website is visible online, Obviously. But how can you do this?
The most common approach as mentioned previously is to optimise your website for search engines which we'll briefly explore below.
The Basics
The objective of online search is for people to find what they are looking for online. The objective of the businesses is to be found by more people who are searching for a specific solution or to answer questions relating to your preferred audience – in essence, it's a value exchange, you provide a solution for people looking for an answer.
Optimising your site, therefore, is using tactics and techniques to help you in that pursuit, which means understanding how search engines work and the signals you need to provide to them so your site is in the highest possible position when someone inputs a search for a term related to your business.
How to research keywords for your website.
The first step of any SEO campaign is understanding the keywords and phrases that people are using to find businesses like yours. This can be done with a variety of tools, but the most common is Google's AdWords Keyword Planner tool.
However, before using any tool, often one of the best ways to start is to use your brain and put yourself in the customer's shoes, try thinking about what they are likely to search for to find you. So if you're an aesthetic clinic in Manchester, then, that should go on your list.
Once you have a few seed keywords, you can then progress to use tools to provide you with an expanded list of more relevant keywords.
How to use keywords in your website content.
Once you have a list of relevant keywords and phrases, it's important to start using them in your website content. This means using them in the titles and headers of your pages, as well as throughout the body text.
However, it's important not to overuse keywords as this can result in your website being over optimised and could potentially be penalised by the search engines.
It's also important that your content is produced at the highest possible standard and should provide value for your visitor through answering their search queries that relate to your products and services.
How to improve your website's ranking on search engines.
Now that you have some understanding of how to optimise your website for search engines, it's essential to know how to improve your website's ranking on these engines and how to give it a boost.
This is done by providing the search engines with the right signals.
Using keywords strategically on your page within key locations as mentioned above is great for on-page optimisation, so too is interlinking your most relevant pages into content clusters to show google you understand the content fully and by providing visitors with rich information about the subject matter.
After on-page optimisation comes off-page optimisation, which typically means backlinks.
A backlink is like a vote from another website to say that the information on your site is good. If you can acquire enough quality backlinks from other relevant sources it can lead to improving your website's authority in the eyes of Google and increase rankings.
How to use SEO for medical aesthetic clinics.
SEO for medical aesthetic clinics differs slightly from normal SEO only on the basis that you are dealing with specialist medical information, so it's imperative that you are stating facts about your treatments and the results they provide.
This is known as YMYL (Your Money Your Life) and Google treats it really very seriously because of the implications it has if the information is not correct.
If your claims are bogus or untrue, you are at risk of getting penalised because Google believes it has a duty of care to protect its users as much as possible. Therefore, providing clinically robust content and bonafide results is the only sure-fire way to guard against potential negative action by Google or any other body.
Content Marketing How to Optimise Your Site for Google.
Investing in SEO for medical aesthetic clinics is important because it can help to bring in more patients. By optimizing your website for Google, you can make sure that your clinic is one of the first results that potential patients see when they search for keywords related to medical aesthetics.
But how can you improve your organic reach beyond just Google?
Creating Value To Get More Potential Patients
One technique is called content marketing and is the process of creating and distributing valuable, relevant, and consistent content to attract and retain a clearly-defined audience — and, ultimately, to drive profitable customer action.
This helps your clinic spread your message and is a much more holistic approach to SEO.
You can use various content types which may help reach other segments of your audience and who might use the internet in a different way, for example through social media marketing, video or podcasts.
It's about exploring what possibilities are available and what resonates most with your audience. But, nobody can tell you what would be best for your business until you test it yourself as your business is unique and so are your customers.
Social media marketing is obvious where most businesses go to get extra reach, and it works really well if used strategically, but where a lot of clinics fall down with this strategy is that they only use social media to market their business without using any other channel, and then get frustrated with the results – To get the best results, it needs to be as part of your broader digital marketing plan.
Creating diversity in your digital marketing and appearing on more channels is a way to get your message across to more people, but it has to be done in a way that is coordinated and is manageable for you to handle as it's just as important to be consistent too.
Why investing in SEO will lead to more customers on your site.
SEO is an important part of any aesthetic clinic's marketing strategy because it can help to bring in more patients. By optimizing your website for Google, you can make sure that your clinic is one of the first results that potential patients see when they search for keywords related to medical aesthetics
But why is it so important?
Why is SEO important for medical aesthetic clinics?
You probably already know why SEO is important, but if you can't join the dots, here we'll spell it out.
As time goes on, more and more people are shopping online, they are researching more online too so they can make informed personal choices. If they land on your site and it shows the right information and answers the key questions the visitor is asking, then they'll give you their business.
What are the benefits of investing in SEO for medical aesthetic clinics?
Ranking #1 on Google for the right keyword can drive enormous amounts of traffic to your site, but more importantly, if that traffic converts into bookings or appointments it has the capacity to transform your business.
Aesthetic clinics operate in a very competitive environment, so having a marketing edge could be the difference between success and failure.
Plus it will allow you to get in front of new people looking for treatments you want to sell most. It will help you sell your most profitable cosmetic procedures instead of the ones you have used in heavily discounted promotions as loss leaders to get people through the door.
How To Improve Organic Reach Beyond Google?
There are a number of things you can do to improve your organic reach, but one of the most important is content marketing.
Content marketing is the process of creating and distributing valuable, relevant, and consistent content to attract and retain a clearly-defined audience — and, ultimately, to drive profitable customer action
Tips for Effective Content Marketing.
The key thing with content marketing is that you are consistent with your messaging so that over time you gradually shift the perception of your clinic in the minds of potential patients, this is called nurturing.
nurturing takes time, effort and investment, but it can be a very cost-effective way to reach more people who may be interested in what you have to offer.
The reason why nurturing is valuable is because most people don't necessarily what to buy your services immediately, so you need to build in some conversion mechanisms into your website which provides people with the opportunity to opt-in and receive more information and to subscribe to your emails list.
Of course, emails are only one strand, there are many others that you can use, but don't try to do everything at the same time as you will be simply overwhelmed, instead plan a strategy and commit to it for a period of time until you have it working before moving on to the next thing.
On the other hand, you could pass it over to someone who has a track record of doing it for similar businesses, who will be able to demonstrate results quicker and at a lower cost than otherwise might be the case.
Design Content Types For A Clearly-Defined Audience?
When creating content you have to be mindful that people consume content in different ways so it's important that you produce content types to appeal to as much of your audience as possible.
There are many different types of content you can use, but some of the most popular are blog posts, infographics, videos, and podcasts.
Blogs posts and articles are a great way to show your expertise in a particular area, and they can be very shareable on social media which helps to broaden your reach.
Infographics are also important but can be a little more time-consuming to produce than a blog post. They are great for sharing on social media and can be repurposed into articles or even videos and if they are of high enough quality are a great way to attract links from other sites.
Videos are a great way to show off your clinic and the treatments you offer, and they can be embedded on your website as well as shared on social media.
FAQ's
How do I promote my aesthetic clinic?
There is no one-size-fits-all answer to this question, as the best way to promote your clinic will vary depending on your location and the services you offer. However, some general tips include using local SEO techniques to rank higher in search results for relevant keywords, creating content that targets your ideal patients and investing in social media marketing.
What do aesthetic clinics do?
Aesthetic clinics offer a variety of services aimed at improving the appearance of their patients. Common treatments include Botox injections, laser hair removal, and fillers.
Rounding it all up
The beauty industry is a very competitive territory, but it doesn't have to be. If you want your business to thrive in this market, SEO should be at the forefront of your mind. The reason why so many businesses fail in these industries is that they don't take the time or effort to invest in their digital strategy and plan for how to beat their competitors.
SEO for Medical Aesthetic Clinics is vital to your success and the owners who are applying it in their own practises are the ones dominating their market.
SEO is part of our digital domination salon marketing strategy which is designed to give you complete online dominance and to be the main aesthetics clinic that people think of when they want these aesthetic treatments.