When it comes to finding the perfect hair salon, clients have a lot of wants and needs and as a salon owner, you might be shuddering to think what you can provide which is different from what you do now.
Professionalism, cleanliness, and a wide range of services are all at the top of the list. Still, clients also want an inviting atmosphere and highly trained staff who provide amazing customer value.
But, what do clients want in a hair salon really? The intangibles are often just as important as the main service offerings for clients choosing a salon. They want a place that makes them feel comfortable and welcoming, with an ambience that speaks to their personal style. And of course, they want their needs to be catered to by knowledgeable staff who can give them the best possible experience.
Clients want a hair salon that is professional, clean and accommodating
Clients also want a wide range of services, as well as an inviting atmosphere
Highly trained staff who provide amazing customer value are important for clients to find in a hair salon
How To Make A Salon Successful
How to make a salon successful is the 64,000 dollar question asked by many salon owners, but more specifically, exactly how do the most successful hair salon owners do it, what's their secret?
It's easy to look at those award-winning salon owners and think they've been lucky and had it handed to them on a plate, but they would argue otherwise.
The successful salon owner doesn't have a flourishing business by chance. They will tell you there's not one thing that you can do to achieve that success, it's been earned through a combination of tireless hard work, attention to detail and an inner determination to win.
But, that attitude, those skills and the mindset are not exclusive superpowers of a small subset of individuals, they also lurk, often hidden, deep within a lot of small business owners too.
So if, after reading the above, you've said to yourself, "I that determination, I have that will to succeed…" you may also have what it takes to win!
So what's next?
One of the first things that you need to do is create a plan of action. You may be an established salon, or you might be new, but in this action plan, you will outline all of your goals for your salon and how you plan on achieving them.
You will also need to include a marketing strategy, as well as what services you will offer and what pricing you plan to have.
I know it sounds incredibly simple, but having your action plan, aka business plan, down on paper and using it as a roadmap to navigate your course is essential.
What makes this so powerful is to review it daily, weekly and monthly in order to keep on track.
Set SMART goals that are realistic, achievable and within a specific time frame and focus on that solely. Being unshakeable in the pursuit of those goals, will in time, turn your road map into reality and into a treasure map for your business.
Not everything will work, but keeping to the plan and measuring what works and what doesn't helps you to become a better entrepreneur. You will have an agile organisation in which you really understand the operations and the levers to growing a great business.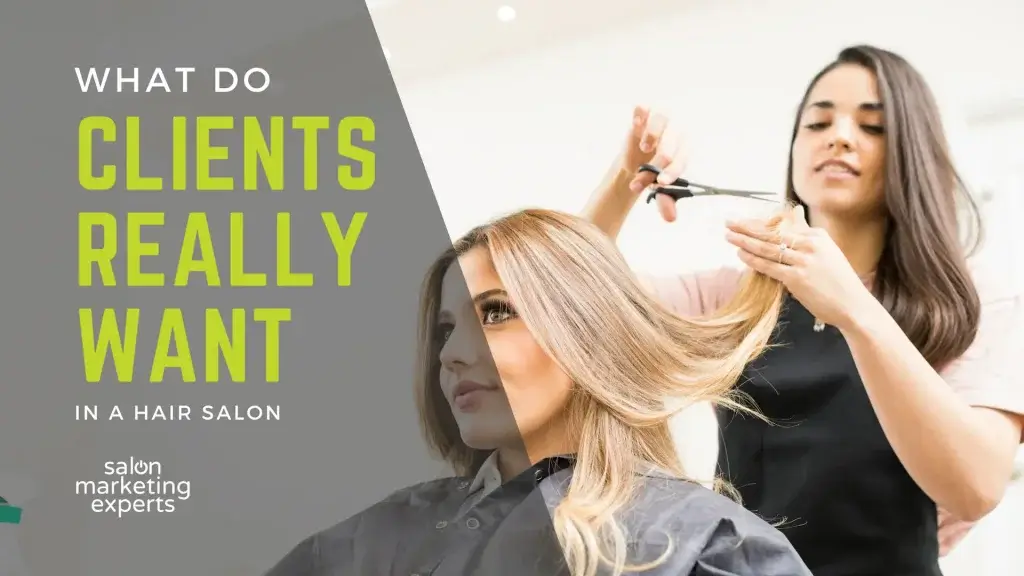 What Makes a Great Salon Experience
To attract the best customers you have to put yourself into the shoes of your ideal client and really understand what they want from a hair salon?
The best salon experiences are those that make clients feel like superstars. They should feel pampered and special, valued and appreciated.
Your customers want to feel like they are the only client in the salon and that their needs are the top priority from the moment they walk through the door, throughout their stay, and right up until they leave.
This can only come from the ethos and culture you have grown in your business, every one of the team needs to know and follow your philosophy and the goals you have set for the business.
You can't just leave this to chance and assume your staff will know or understand, it is something that needs to be instilled into them regularly and what it means to be part of your dream team.
It's important that your staff should perform to a high standard at all times, and, you should expect nothing less than excellence from them and that should be clearly communicated to them.
However, as the business owner, you have to lead by example, this can't be a "do as I say and not as I do" scenario. You have to show that you play by the same rules and keep to the same high standards as you train your team to strive for, otherwise your just a hypocrite and your staff will lose trust and respect.
Salon Customer Service
We mentioned above how important it is to make your customers feel special, why? Because customer service is key in any service-based business, it's what sets you apart from the competition.
Offering a high level of customer service is one of the best ways to show your clients that you care about them and their experience in your salon.
It's also one of the easiest ways to get return custom, as clients will appreciate the efforts you go to to make them feel when they are in the salon.
It's one of those intangible's and often overlooked but can be the difference between a client returning and recommending you to their friends or not.
It doesn't have to be difficult either, it's simply a matter of maintaining good standards, understanding your customers and applying a simple process so every one of your staff can follow it.
Ultimately, you might think clients stick with you for your expertise, the personal knowledge and relationship you have built, all of which is true, but that should be the bare minimum you provide, most other salons can say the same of their clientele.
They also book out of habit because they feel comfortable, at ease and their overall experience is positive. But people are fickle and If you disrupt that feeling and become complacent in any way, you risk losing them as loyal customers.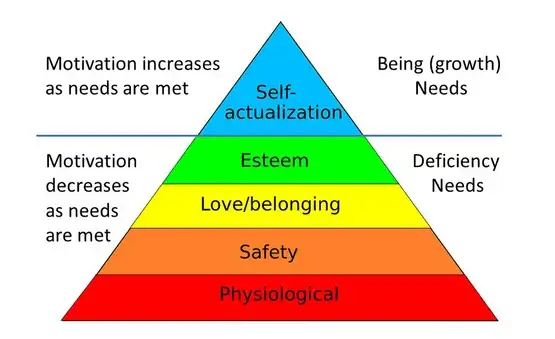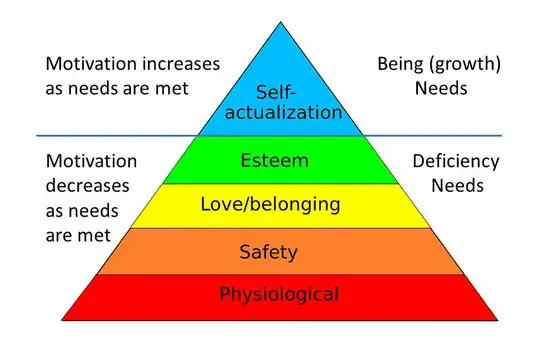 By doing this you are actually tapping into a human condition as referenced by Maslow's hierarchy of needs in which the needs of any individual are based upon safety, belonging, comfort and aesthetics as the most basic needs.
Once these are met, the individual will then move up to the next level of needs which might be esteem or self-actualization.
You might think this is a little woo woo, but it is the basis of human nature and how we as business owners can appeal to our clients on a deeper level.
Salon Customer Service Training
One of the things that can easily slip from our minds as salon owners is the importance of customer service training.
It's not something that we think about on a daily basis, but it's one of those things that need to be done on a regular basis in order to ensure everyone is up to scratch and understand what is expected of them.
The best salons in the world know this and prioritise customer service training, as should you. This can be the difference between a so-so salon and one that is truly exceptional.
Offering excellent customer service should be at the heart of your training program, it's what will help you to retain clients and set yourselves apart from the competition.
You can't just leave it to chance that staff will absorb this information and understand it, you need to ensure they do and that it is included in the induction process for all new members of staff on ongoing training which should be maintained at least monthly.
A by-product of this is that your staff retention will be higher as a result.
Staff Retention
A lot of salon owners automatically think that they have to keep all the power and knowledge to themselves as if they share all the secrets, the staff are just going to use it to set up in competition.
But you can't think like that, many people don't want to have the pressure and stress of their own business, they prefer instead the security of a steady job, which you are providing.
There are a number of ways to keep staff happy and motivated, but it starts with you setting the tone from the top.
If you are happy with your work, it will show and this will be reflected in the attitude of your team.
It's important to offer staff benefits, such as paid holidays, sick days and bonuses but it's also important that they feel appreciated.
One way to do this is with regular reviews and feedback, both positive and negative.
Luxury Salon Experience
You could be forgiven to think that customers just want good treatment and they're happy, but that is not the case.
it's being shown that with the amount of competition for your services, clients are becoming spoilt for choice and becoming more decerning about how and where they spend their money.
It's for that very reason salons are looking at ways to provide that luxury salon experience through offering extras such as drinks, magazines and of course, free Wi-Fi.
Best Hair Salon Experience
Some of the biggest salons are refurbishing their properties from places you get your hair done, to experience-driven destinations fueled by social media and influencer culture.
Some hair salons are even going as far as to have beauty treatments. This may be good for your salon, or not. Just be careful that you can offer something that the client wants and that it's not a loss leader for your business.
It's easy to lose more money than you invested in these ventures hoping that you can attract new clients that spend more time and cash in the salon.
As a salon owner, it's important to know what your clients want so you can provide it for them instead of what you think they want as it could be an expensive lesson.
What Makes A Salon High End
At the end of the day, it's all about perception and what's in the eye of the beholder. It all goes back to your business plan and your ideal customer avatar.
Some people might say that a high-end salon is one that is expensive, offers unique and exclusive services, has an air of sophistication about it or that it's simply not accessible to everyone.
If you have a good reputation and have a good solid appointment book, you can develop that effect of scarcity in your own business without spending enormous amounts of money creating a cool destination.
Simply apply a repeatable booking process and let customers know they need to book for their following appointment when they are having their current treatment.
You have to train your client and make it clear to them that if they don't book in advance, they will risk losing out because you would have to give the slot to someone else on a first come first serve basis, and that they will have to wait until another slot becomes available.
This is a game of smoke and mirrors to a large extent, but it works on another psychological trigger, in that no one likes to give up their turn if they know it will disadvantage them.
I know this works, as a salon close to me uses this technique to great effect and as a result, is oversubscribed with appointments months in advance.
It's up to you to decide what makes your salon high-end and what you can do to make it more appealing to those clients who are looking to spend a bit more.
Hair Salon Customer Reviews
One area where you can underline all your great work and get people clamouring to book is by the use of reviews.
Even if you have a great destination, your customer service is on point and you're oversubscribed doesn't mean you should be complacent.
As part of your marketing strategy, you should include a reviews strategy as that is a sure-fire way to get people to take note of what you do and how good you are.
Genuine online reviews are really powerful and are one thing people seek out when looking for a new salon. Having a process in place where you follow up your appointments with an email or text asking for a review is a powerful technique. it's semi-automatic and largely hands-off and can be set up in a number of ways but it is worth its weight in gold.
It's something we highly recommend and apply to all our clients.
You can have the best location and the best-trained staff, but if you are not getting your clients to give you reviews, you are leaving out a vital piece of the puzzle and keeping your success under wraps.
You don't want to be your client's special secret, you want to be known as the place everyone loves, gives the best service and gets rave reviews, the best way to do that is through real customer reviews.
Wrapping It Up.
It's hard to know what clients really want in a hair salon and how to create the best hair salon experience for them. but by planning it and taking the necessary actions and deeply understanding your clients you could very well find that you give them what they truly covet.
The answer is not necessarily refurbishing your salon and spending a fortune to make it the coolest on the block, It could be sometimes as simple as just using your imagination and creating the right experience for the clients you like to work with most.
You also might like to read How can I make my salon successful?